Over a 24-year timeline of dedicated service, collaboration, and giving back, the Mary K Yap Foundation has partnered with 100+ orphanages across Asia and Africa, introducing impactful programs to advance the well-being of orphans.
Dancing with Joy at the Royal Seed Home Orphanage in Ghana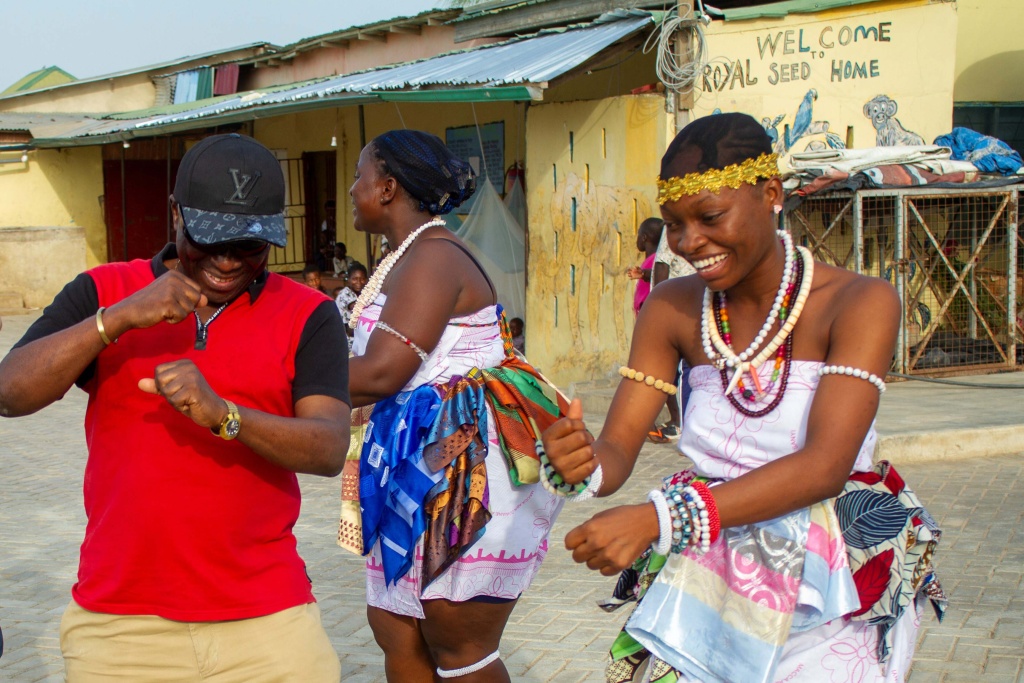 April 15, 2023 - Accra, Ghana - Afro dancing is an unique talent shared by two Ghanaian grown up orphan girls from the Royal Seed Home with our Orphanage Ambassador, Nana Danny Mainoo. The two of girls graduated from a vocational school and dream of becoming future entertainers.
Foundation's First Donation to the Royal Seed Home Orphanage in Ghana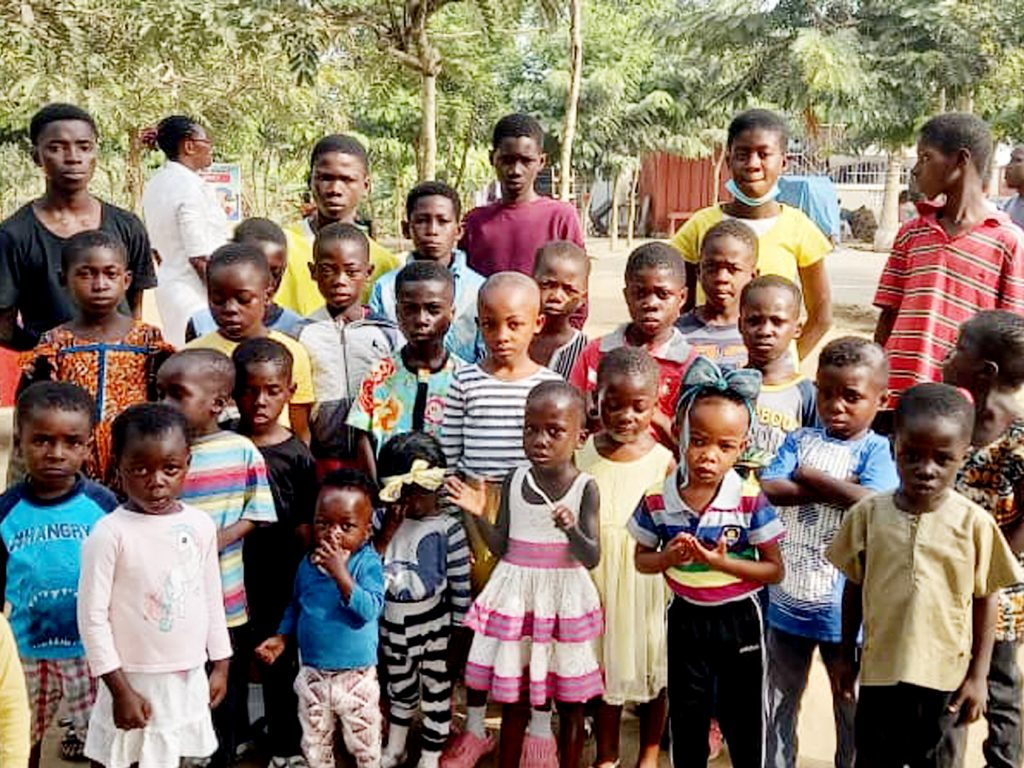 April 15, 2023 - Peter K. Yap, Executive Director together with Ghanaian Orphanage Ambassador, Danny Mainoo visit the Orphanage in Kwaboanta, Ghana which has been operating for 20 years with the goal of building the country's first E-Learning Center for 100 orphaned children.
E-Learning Children Center for Orphanages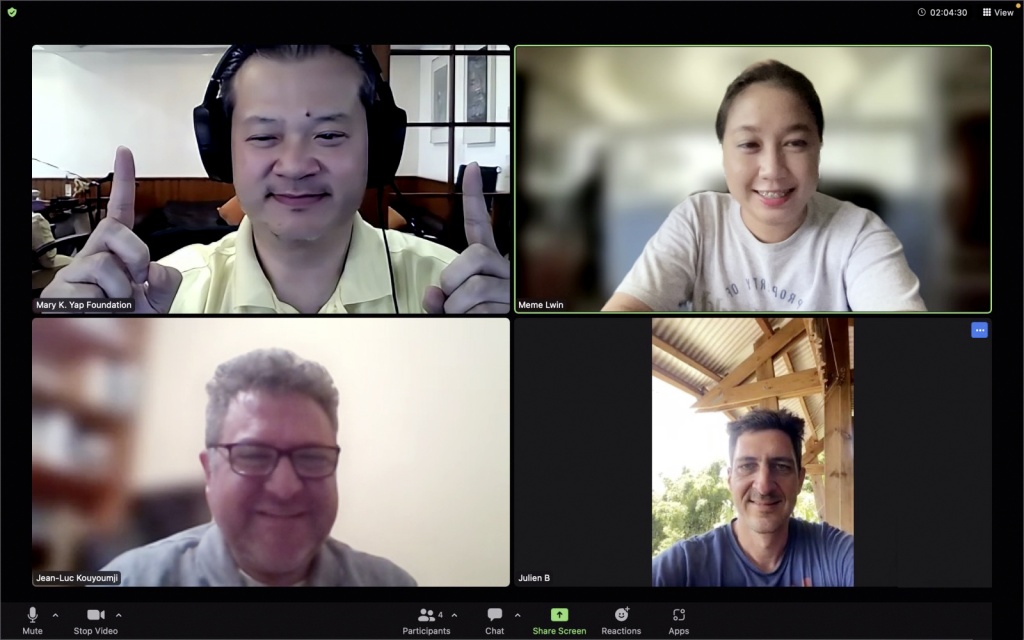 April 7, 2023 - First Zoom Discussion with Board Member Jean-Luc Kouyoumji, Executive Director Peter K. Yap, Program Manager Meme Lwin and Architect Julien Barchi' to discuss various options for the development of E-Learning Children Center for Orphanages in Myanmar using country's abundant supply of bamboo materials. 
Donation to the Foundation of the Islamic Centre of Thailand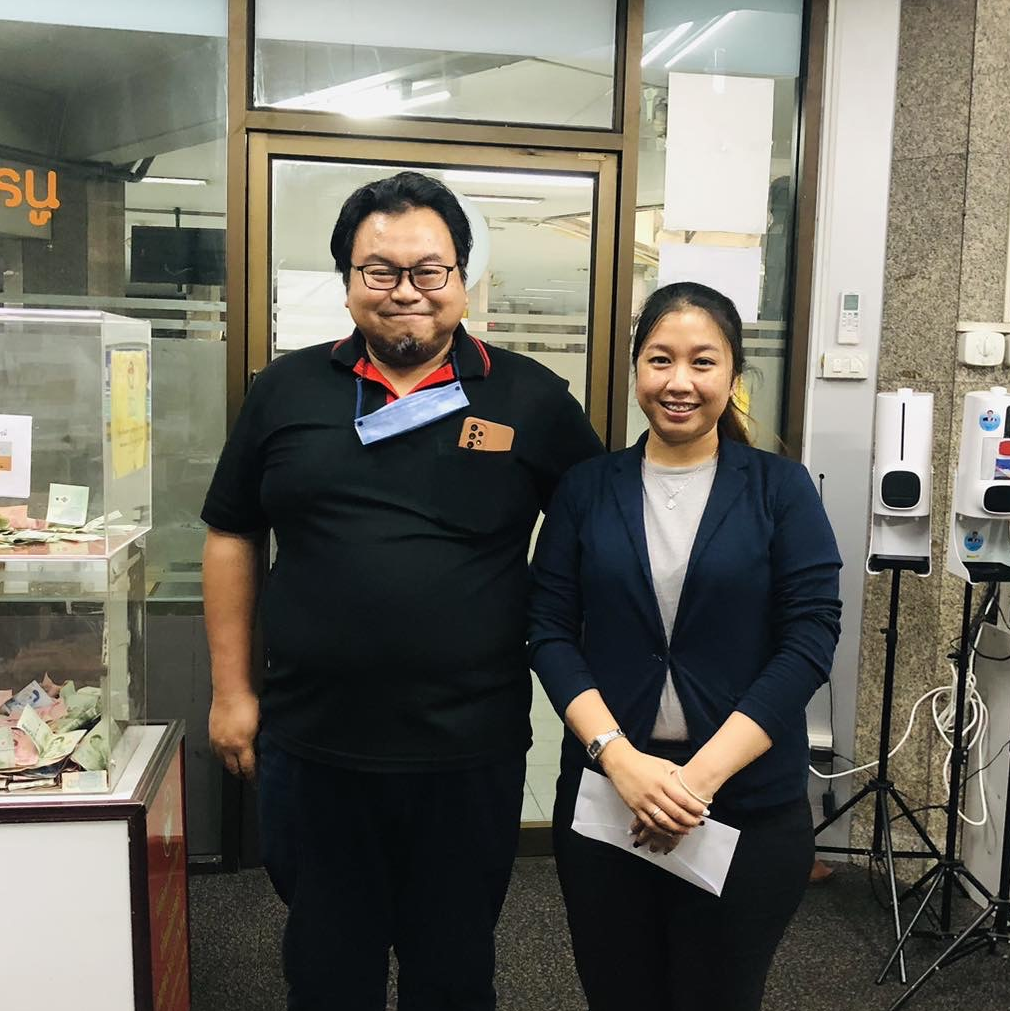 February 19, 2023 - Program Manager, Meme Lwin visits Thailand to seek collaboration with the Islamic Center that houses Muslim orphans in Bangkok.
Rice Donations at the Hope Orphanage in Yangon, Myanmar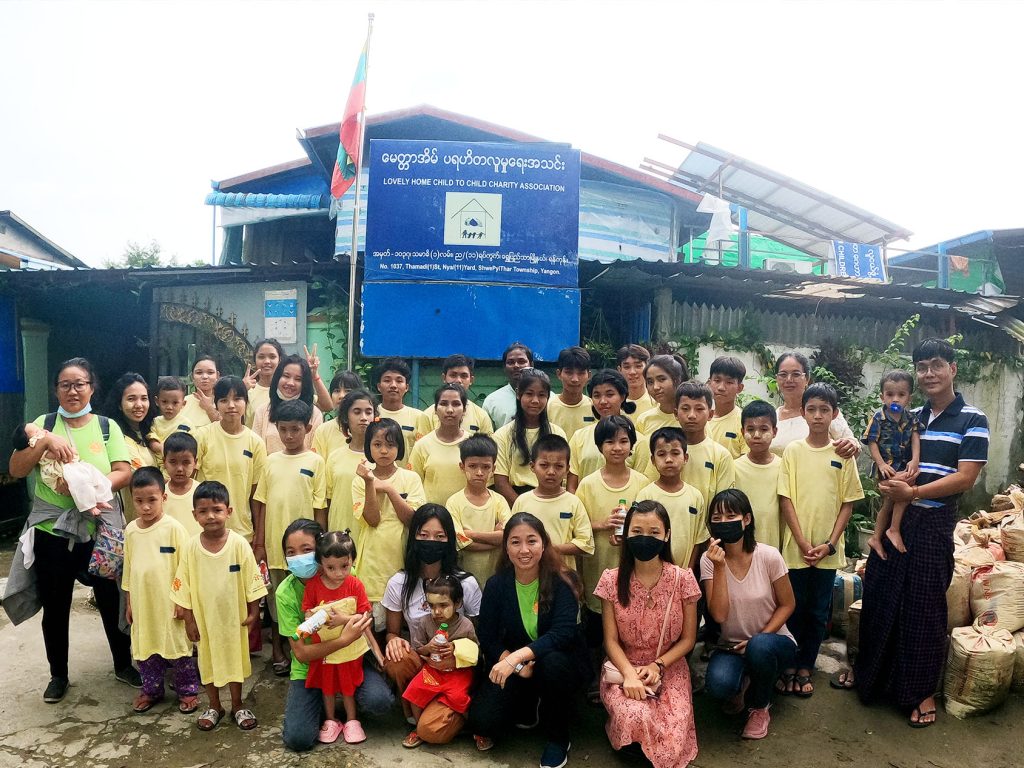 July 24, 2022 - Our Program Manager, Meme Lwin with the help of seven community volunteers spent a day with children. You can read more about the event by clicking here. Read More +
Endorsement Letter from His Grace Cardinal Charles Bo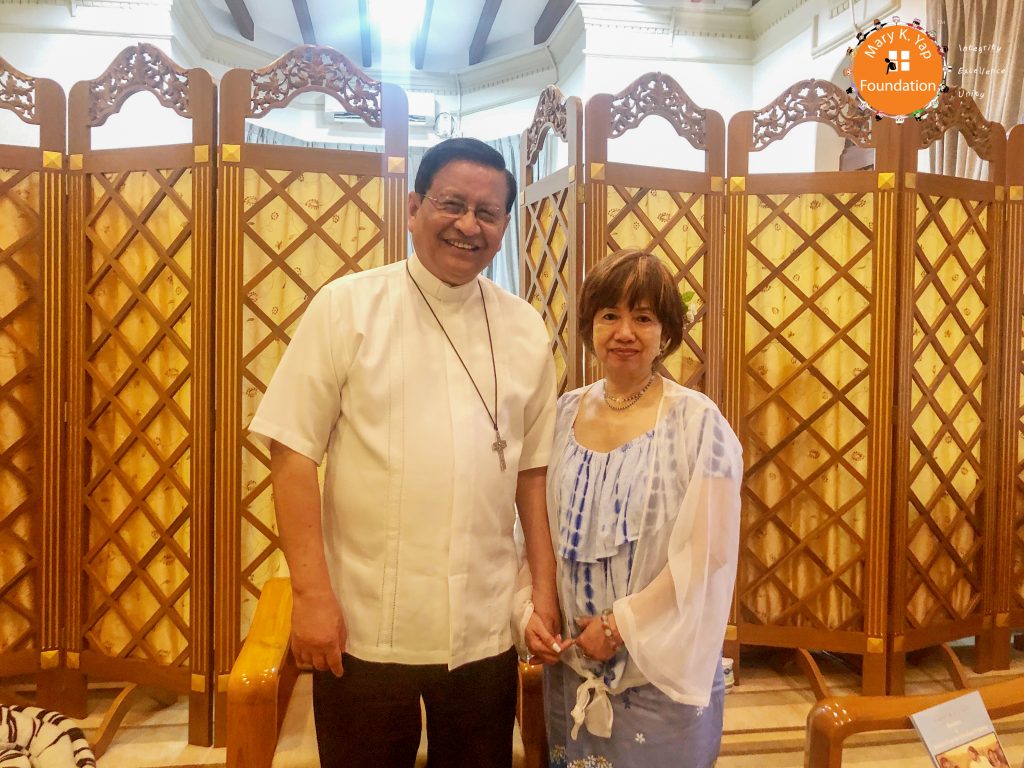 July 21, 2022, Yangon, Myanmar - Foundation receives an endorsement letter from the Roman Catholic Church of Myanmar, personally acknowledged by His Grace Cardinal Charles Bo for "A Hope for All Orphans' Movie for a Charity" project for the benefit of Orphanages throughout Myanmar. Read More +
March du Film Festival Cannes France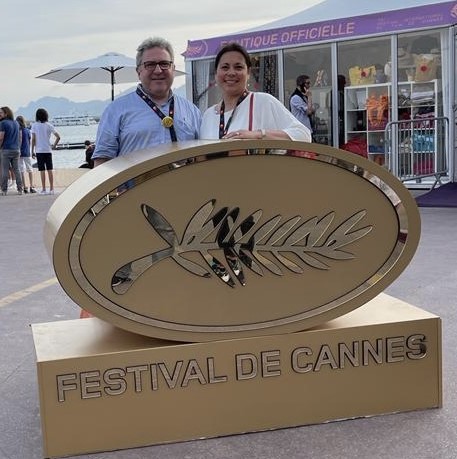 May 22, 2022, Cannes France - Dr. Jean Luc Kouyoumji, Foundation's Board Member, and his wife, Josephine visited Cannes in preparation for the promotion of the Foundation's first Movie for the Charity project. Read More +
The new norm for the Foundation's Board of Directors meetings during-COVID period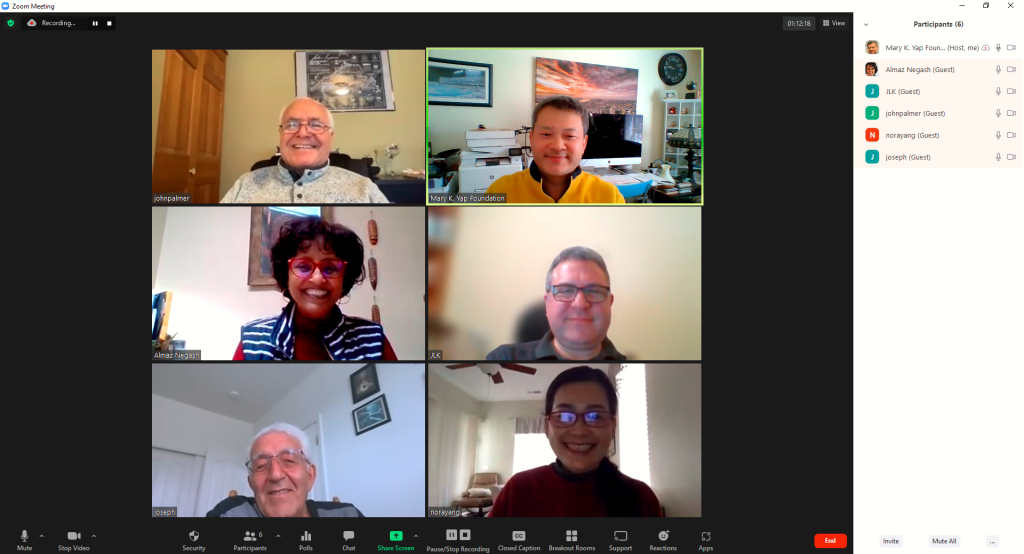 April 22, 2022 - The Board discussed impactful plans for the next 5 years to bring innovative E-Learning Centers in collaboration with private sector partnerships.
Achievement of Myittar Film Censorship Certificate from MMPDO's Censorship Board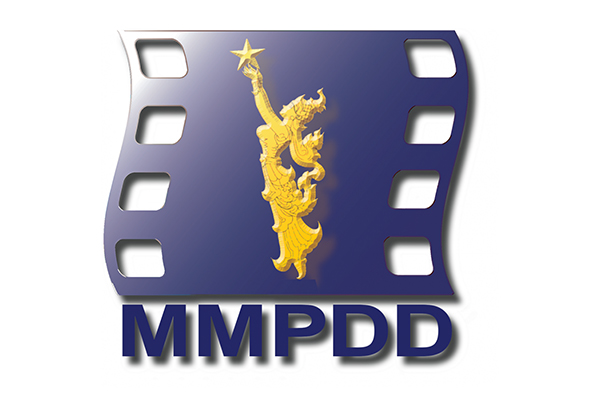 March 23, 2022 - Yangon, Myanmar Foundation's Film partner Mandalay Productions received the country's final approval from Myanmar's censorship board. The certificate of allow our organization and film partner the permission and clearance to release our first charity film titled, "Myittar."
Completion of Post Editing for Charity Featured Film titled "Myittar"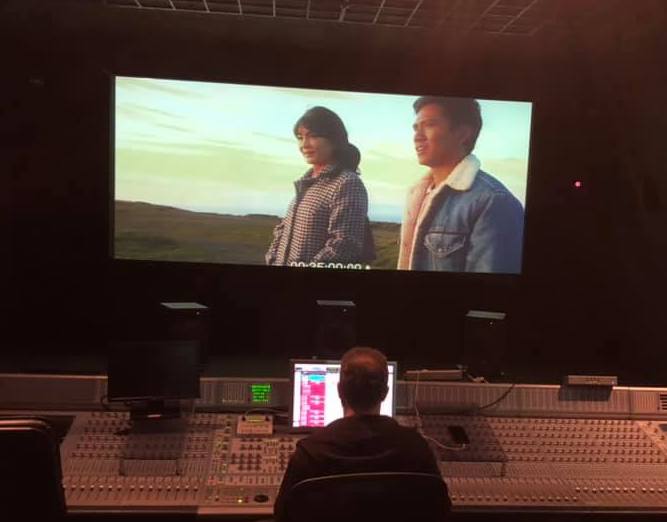 March 06, 2022 - Bangkok, Thailand - Foundation's film partner, Mandalay Production LLC, completed the final post production edits that included Dolby 7.1 sound integration, subtitling, and DCP. The proceeds from the film tickets and sales from streaming services are dedicated to support our organizational programs and empowerment goals for the benefit of orphanage communities.
Exploring sustainable gardening program at the Parami Orphanage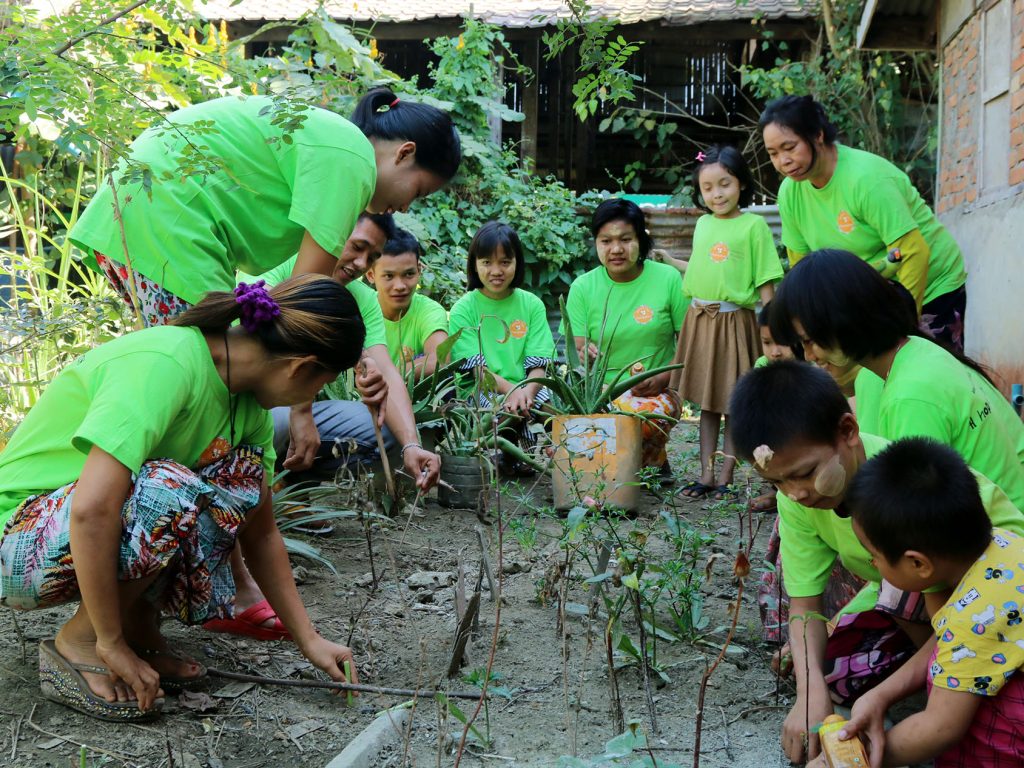 December 31, 2021, Dale Township, Yangon Region - this orphanage has a small garden area sufficient to grow daily essentials to keep the orphanage compound self-sustaining. Read More+
Tribute to Mr. Eward Thaung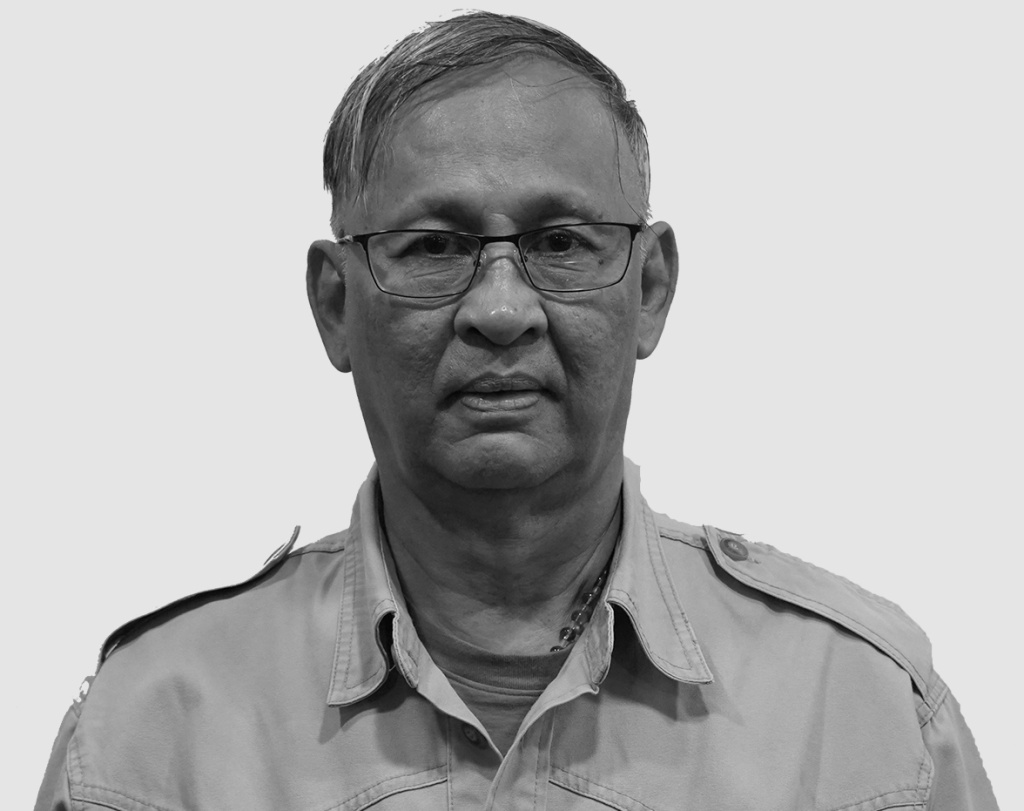 August 7, 2021 - We celebrate the life of Mr Edward Thaung who served as a board member for the Foundation from 2017 to 2021. Mr Thaung was a valuable member of the board responsible for providing the organization with legal advise on all regulatory affairs and compliance matters in Myanmar. Read More+
Monthly Rice Donation at the Gailee Orphanage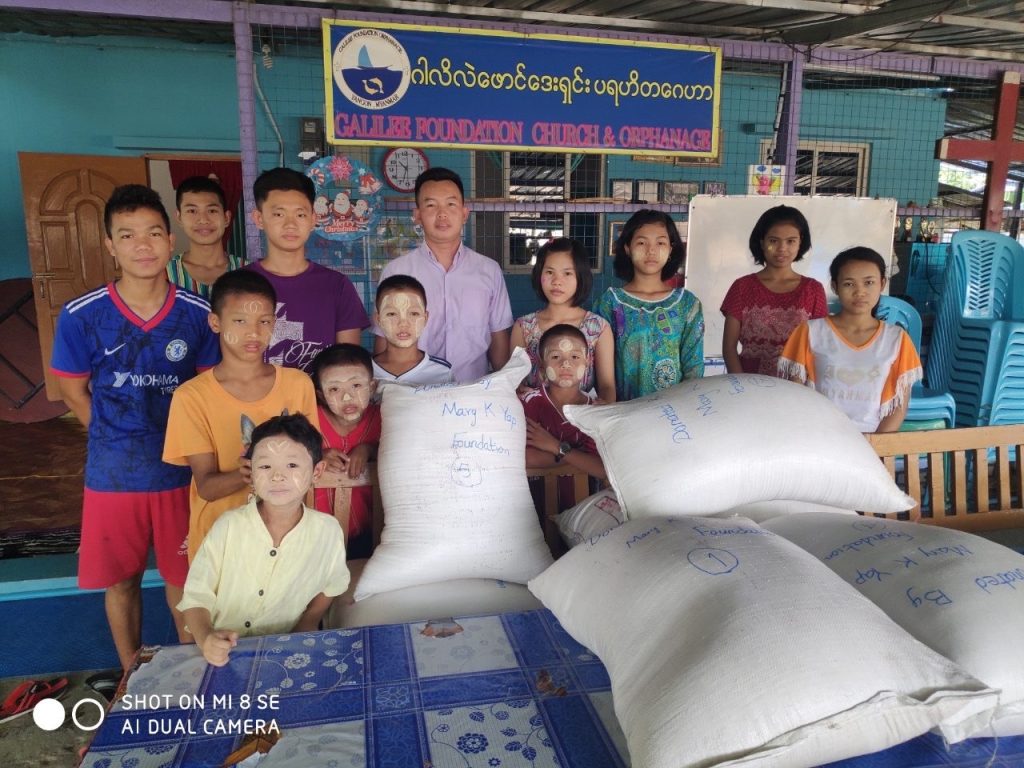 June 4, 2020 - Shawpyithar, Yangon. Pastor Saw provides a shelter and food to 33 children of which 15 of whom are orphans who are young as 4 years old to 16 years old.
Meet the Stars at the Movie for a Charity event at Skyline College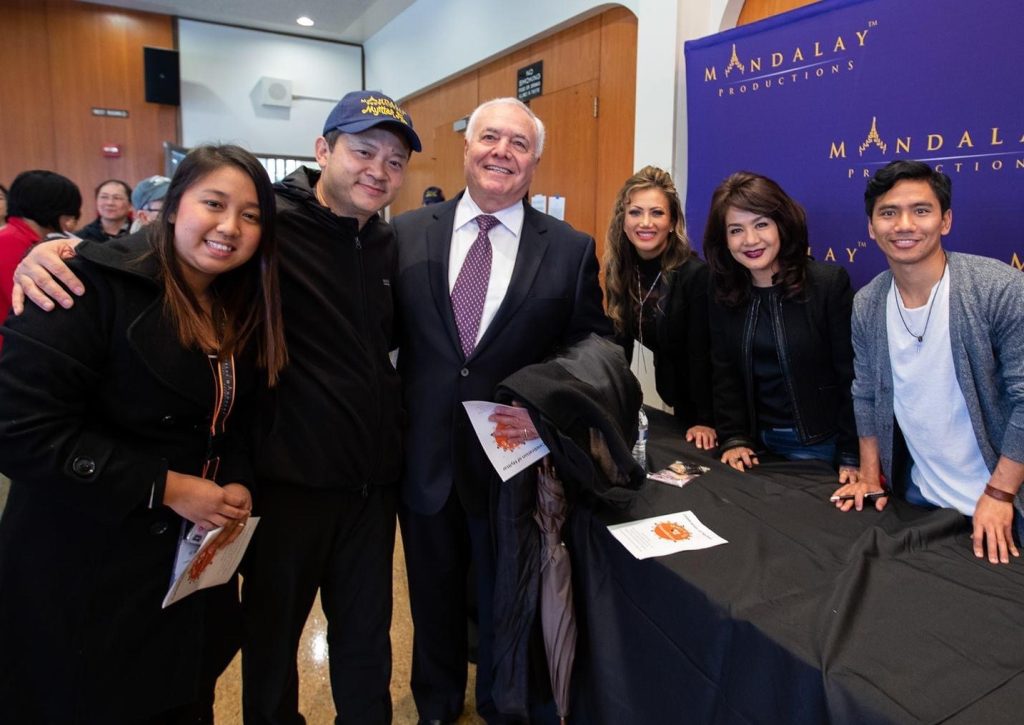 March 2, 2019 - Board Member, Dr. John Palmer, and Executive Producer Peter K. Yap were joined by the cast and crew members, Htun Eindra Bo, Gin Mung, May Maung, and Meme Lwin (script supervisor). Read More +
USPTO issues an approval status for the legal rights and protection of the Mary K. Yap Foundation LOGO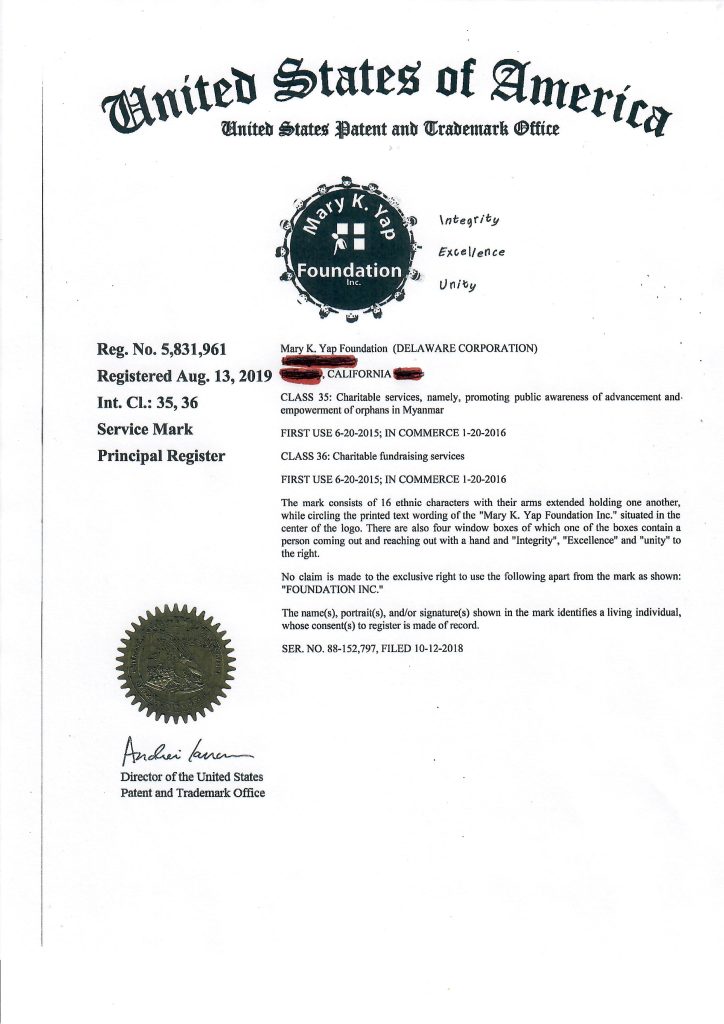 Movie for Charity - The Opening Scene for the "Myittar Film" at the Sacred Heart Church, Kyauktan, Thanlyin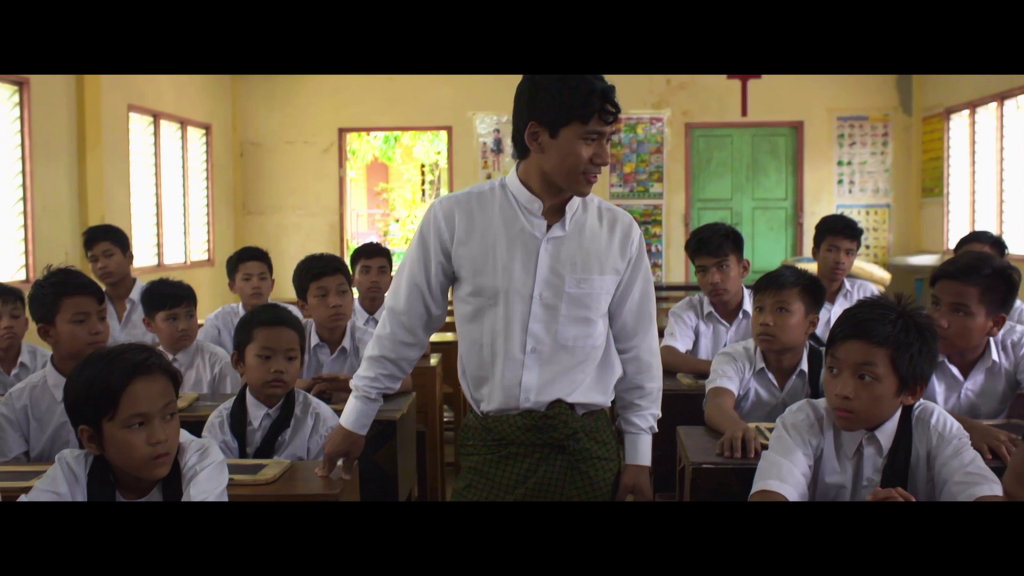 3rd Annual TeddyBear4Hug Campaign at the Myittar Mon all-girls Orphanage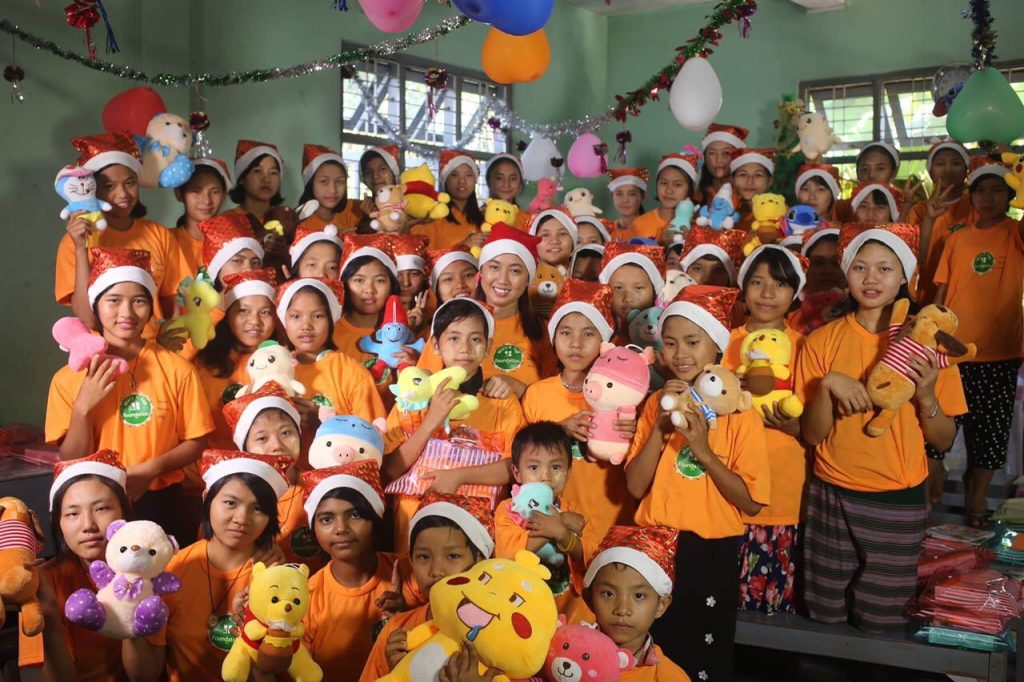 December 22, 2018 - Hmawbi Yangon Celebration get-together with a local orphanage for a full day filled with smiles and laughs
High School Diploma Campaign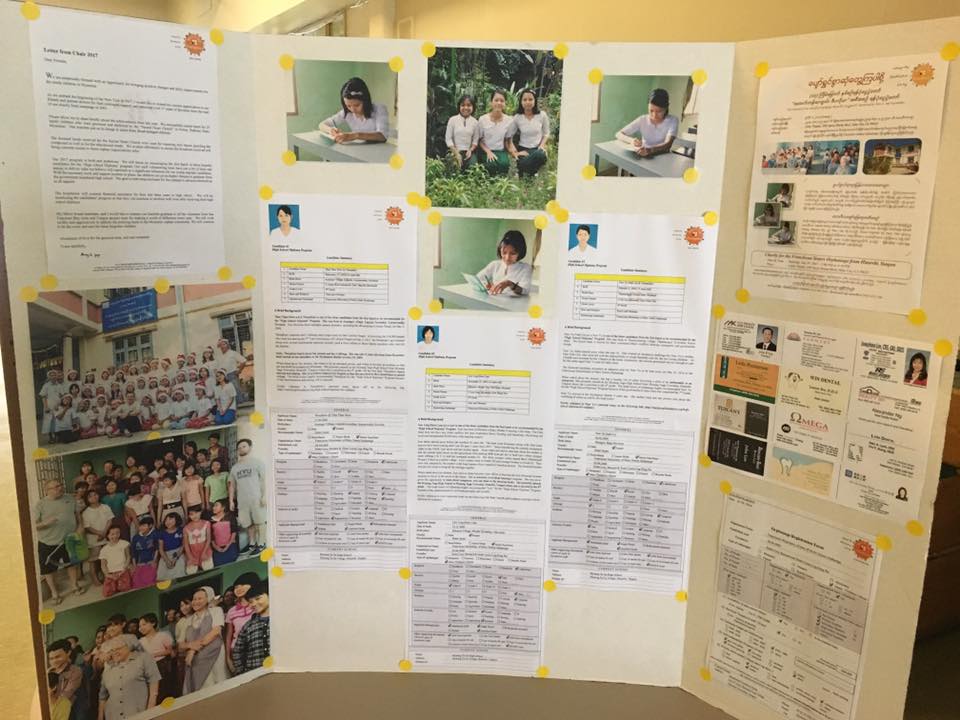 July 17, 2017 - a fundraising event to raise funds for the 3 high school orphan candidates to support them with their high school studies. The community came together to support the cause of orphanage children who are in their last three years of high school. Food donors, music, and onstage children's performance were part of the fundraising activities that brought together more than 400 friends and family members.
Yellow Generation Wave Orphanage, Kyauk Taga Township, Bago Division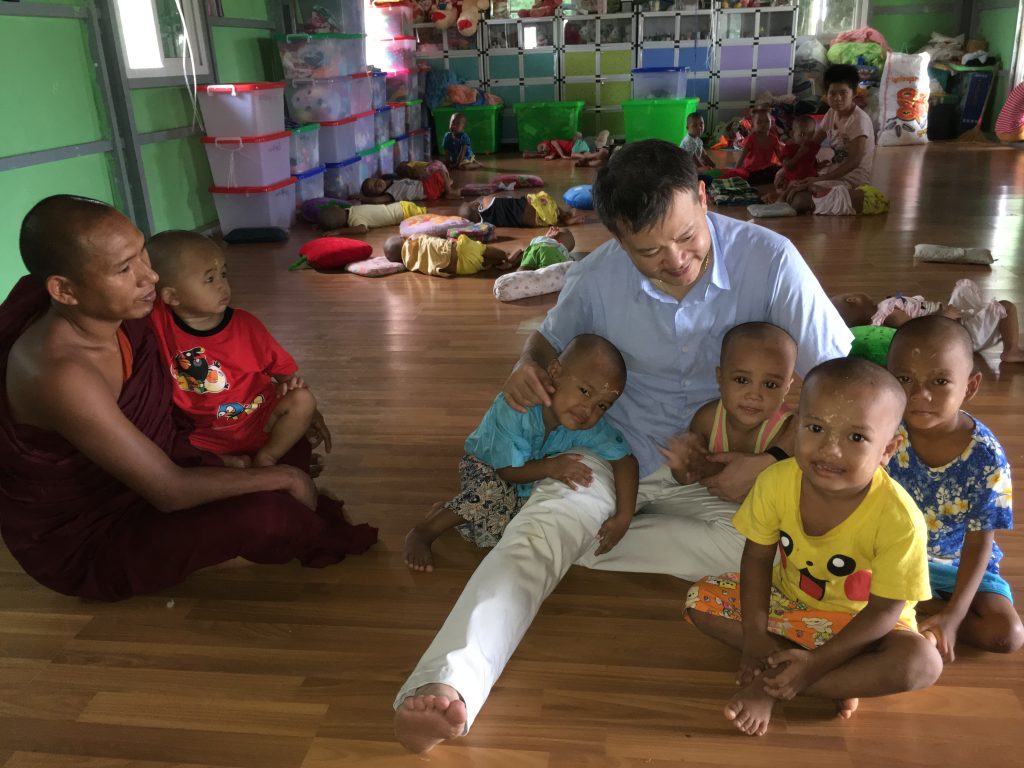 August 4, 2017 - The Executive Director led by Peter K. Yap and volunteering staff Wai Wai visited an Orphanage that has been around for decades in the Central location of Myanmar (200 km away from the Federal Capital Naypydaw. Donation items including Cash Donations, Food, Clothing, Books, and Blankets were given to 250 orphan children as young as several weeks and months old.
Another year of Christmas Celebration at the St. Francis Xavier in Thanlyin, Yangon -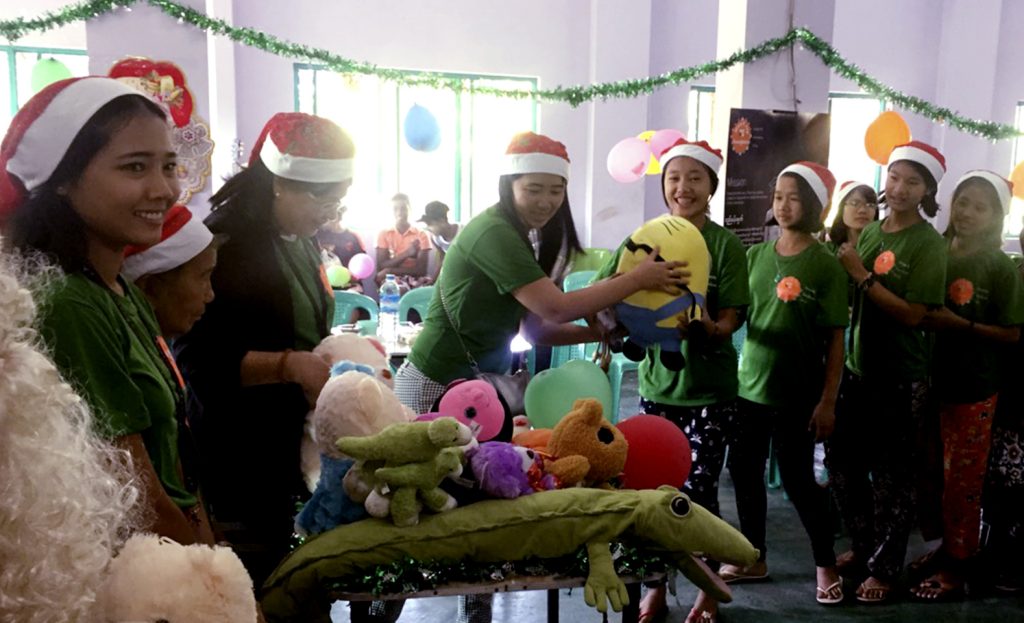 December 25, 2017 - Over 200 children received Christmas presents and their favorite stuffed animals from Steve Wagenseller, our Santa Claus for the year. Our team was also joined by Academy Award winner, Auntie Shwe Zin Htaike and Anna Red (Famou Lady DJ from Austria) to help us celebrate a joyous occasion .
Charity Fair for the Orphanages of the Sacred Heart Church, Sittwe Township, Rakhine State, Myanmar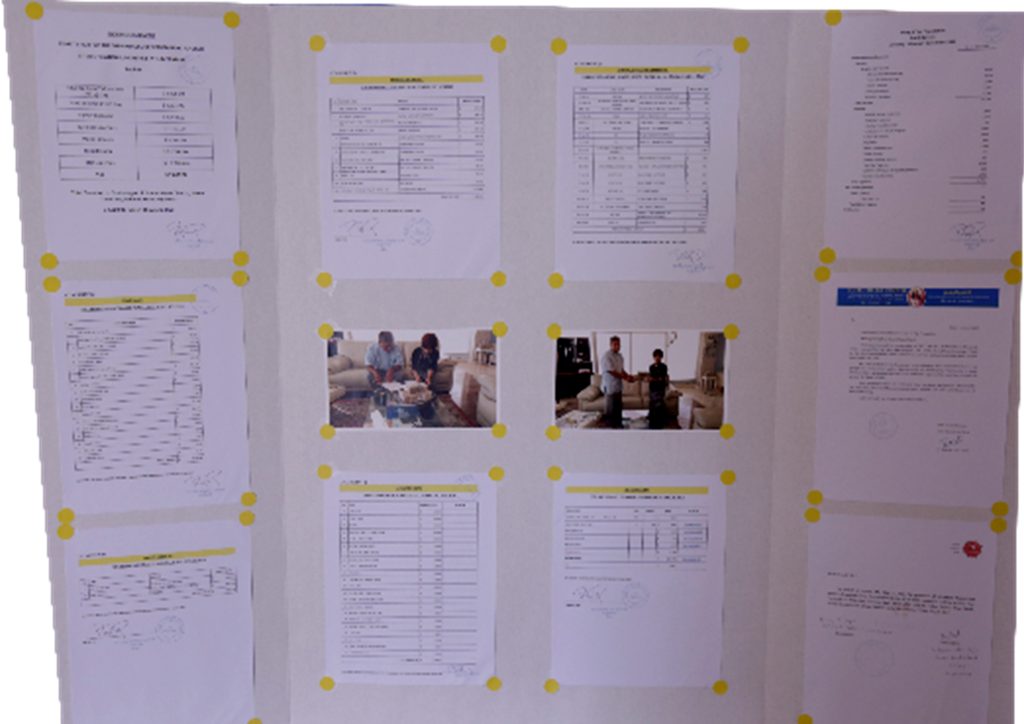 July 9, 2016 - Auntie Mary proudly presented the funds donated by friends and family of the San Francisco Burmese Community. The funds are dedicated to the educational advancement and social well-being of the orphan community. The church houses 30 orphan children from the conflict-affected area in Rakhine where the children are looked after by the Roman Catholic church.
Charity Fun Fair to benefit the Yandanarmazayi Orphans Home at the Pyay Monastery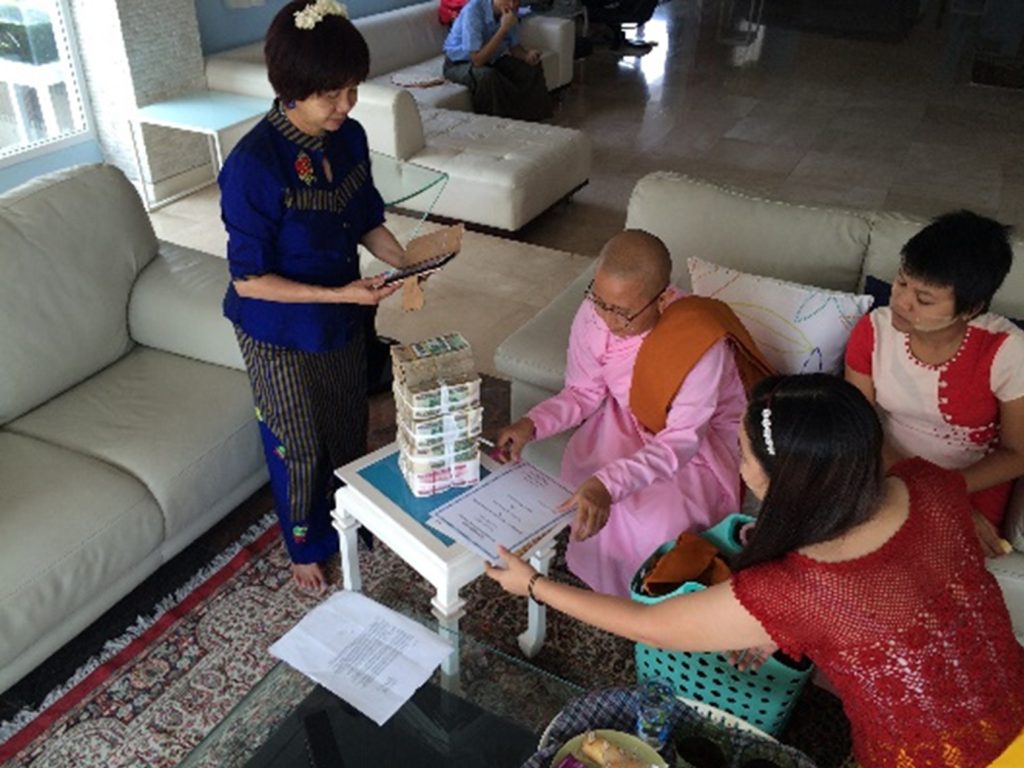 April 8, 2016 - managed by Saya Lay Daw Wunna Thiri who is responsible for the social well-being of more than 230 children. The distribution of funds was graciously carried out by Auntie Mary, Zin Malar, and Ko Joseph who welcomed Saya Lay at the Foundation Project Offices in Yangon.
Christmas celebration with the all-girls Myittarmone Orphanage in Hwabi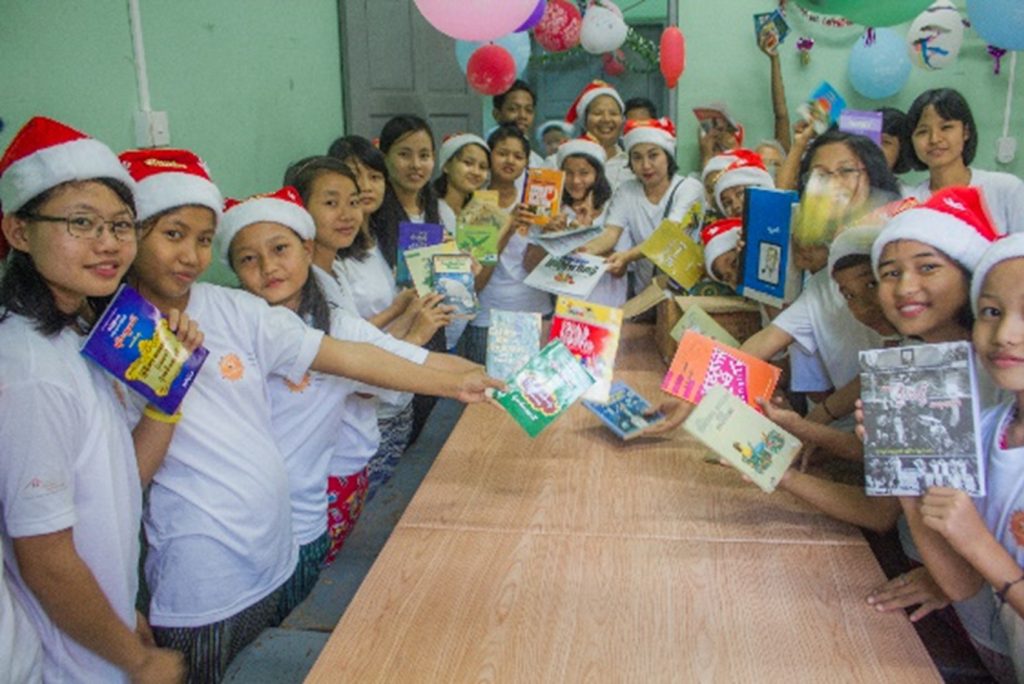 December 2016 - On top of our regular fun game activities, our Orphanage ambassador Meme read stories in small groups on the importance of reading and how the knowledge gained from books will help spark a creative interest leading to a better future. Chicken rice plates, refreshments, and desserts were also served.
UNITED NATIONS launches a new era of Sustainable Development.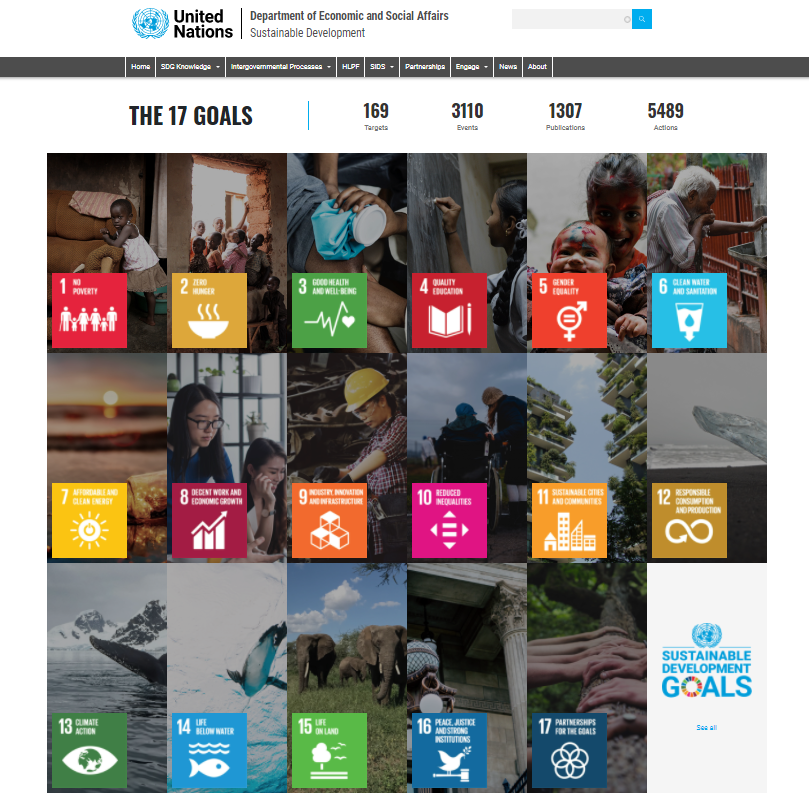 (2015) - Foundation will launch two of the goals to support the UN Sustainable Goals which include No Hunger and Quality Education for the orphanage communities.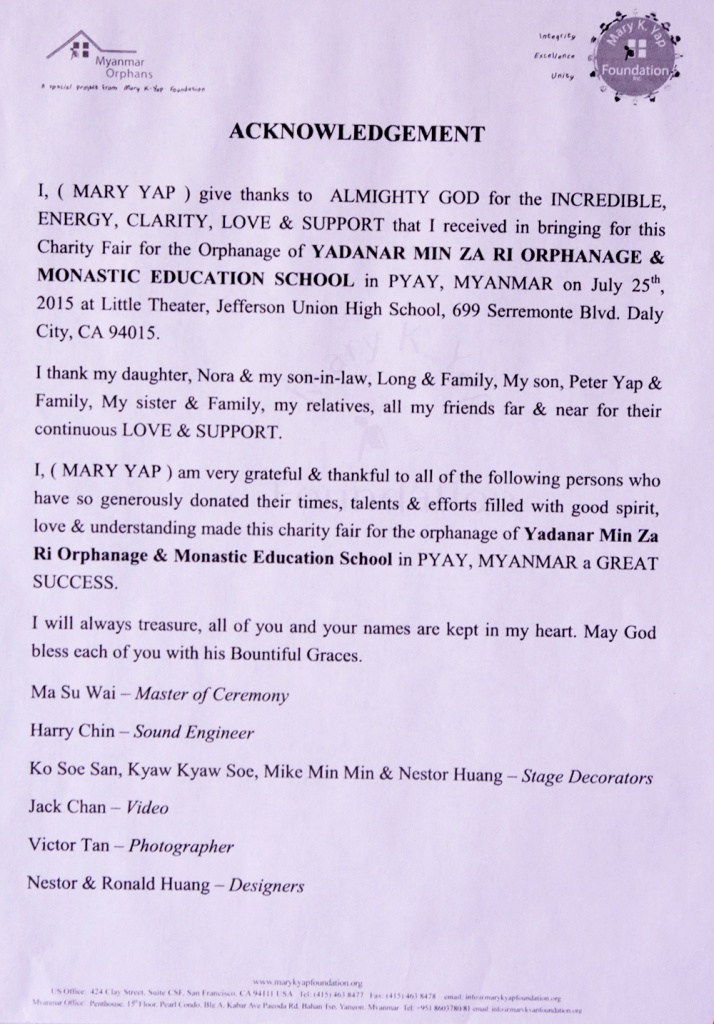 Charity Fund Fair Fundraising Event illustration for Yandanarmazayi Orphans Home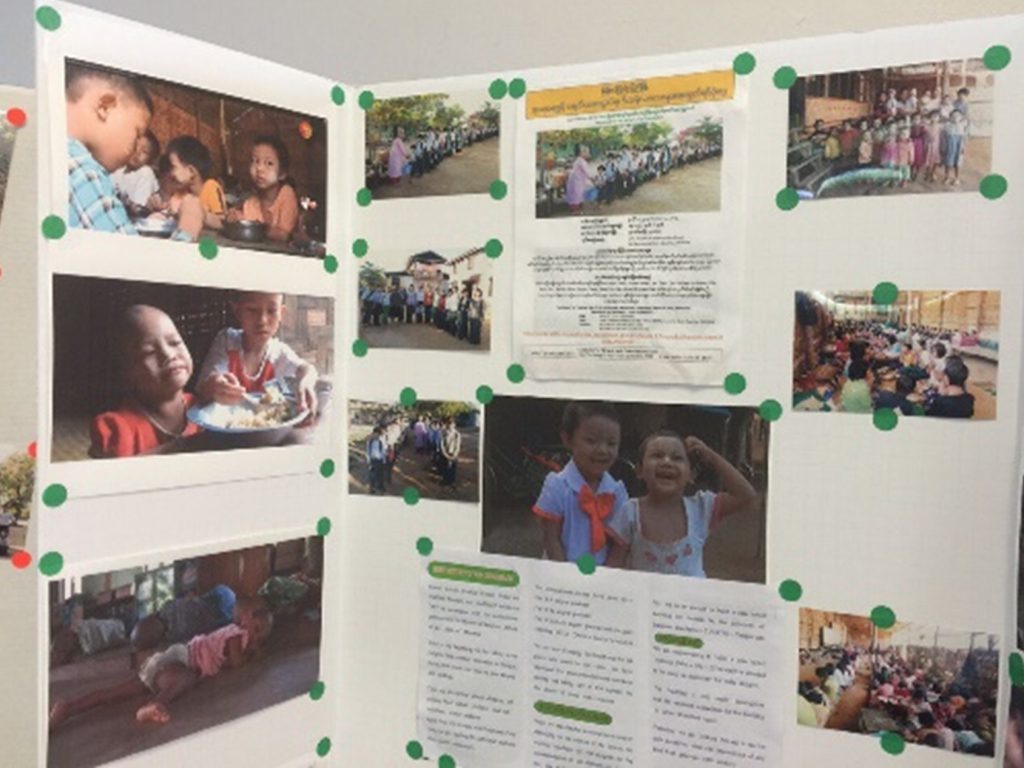 July 29, 2015 - Daly City, California Fundraising Even support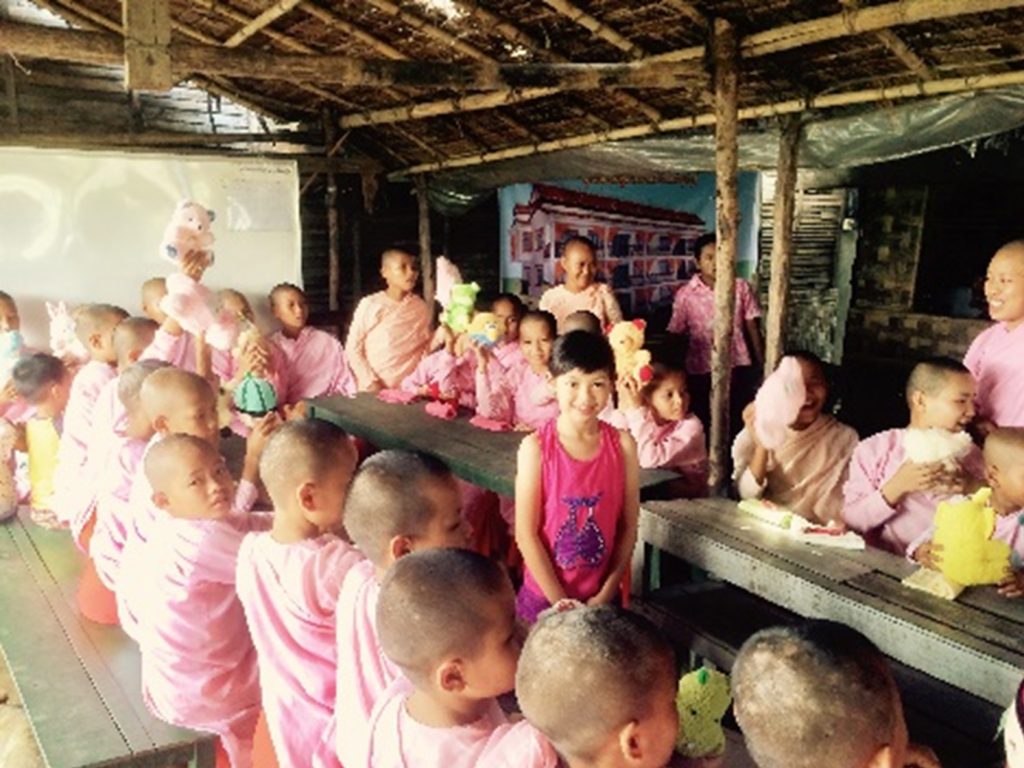 Incorporated Charter documents cleared and signed in the State of Delaware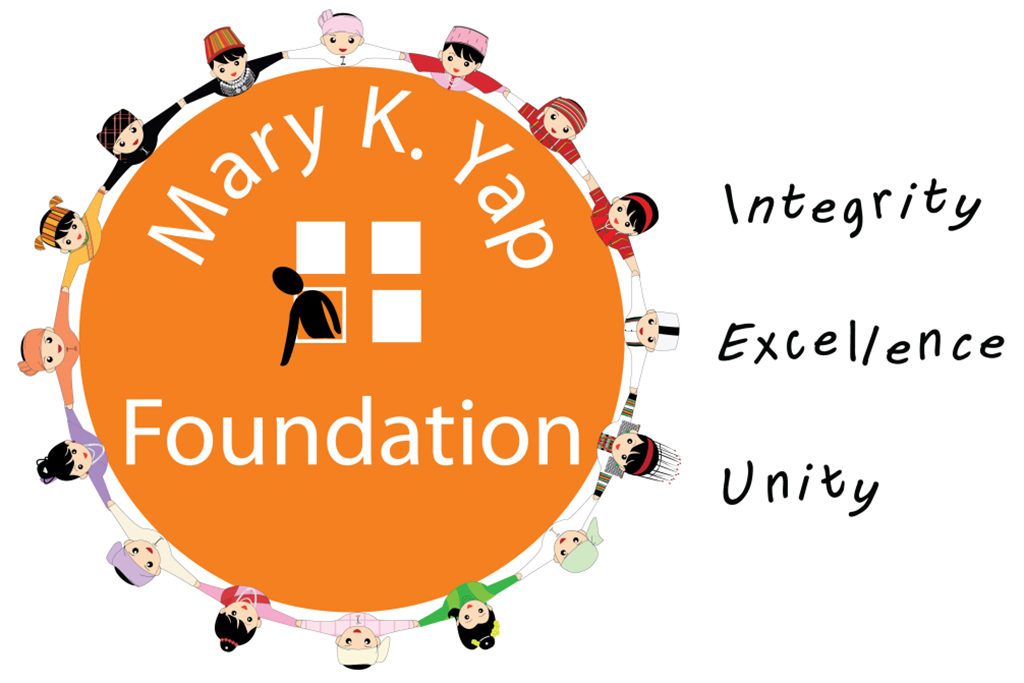 June 11, 2014 - Mary K. Yap Foundation was officially registered with the charitable organization with the purpose to empower orphan children
Charity Fair for the Orphanage of Sacred Heart Church in Leiktho, Taungngu, Myanmar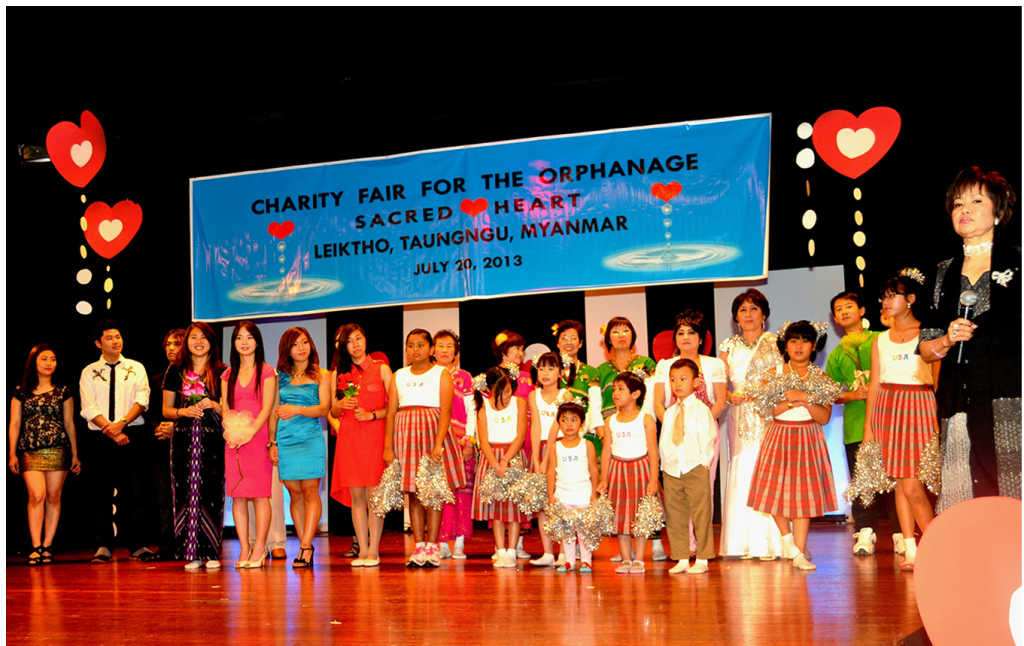 July 20, 2013 - Daly City, California, USA. The Burmese community gathers together to stage the biggest cultural and music performances, accompanied by children of all ages, community leaders, and various local artists to raise charitable funds for orphanages in Leiktho.
Music and Cultural Charty Fair for the Mary Chapman School for the Deaf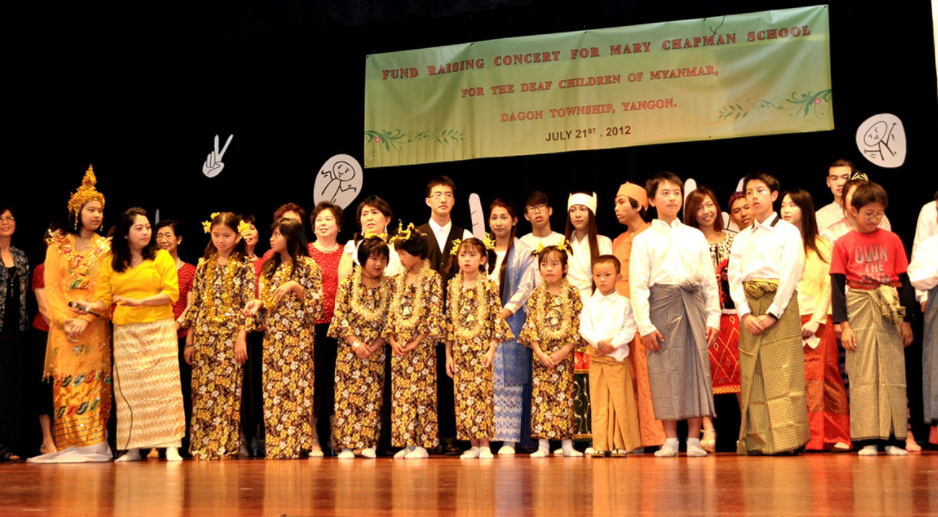 July 21, 2012 - Daly City, California, USA. This organization has existed since 1920 and was founded by Mary Chapman. She bought the land and built a building to develop programs for children who are deaf. Funding was needed to continue training teachers who are assigned to help those deaf children. The school provides admission to all children despite their race and religion, including orphaned and abandoned children.
Charity Fair for the Orphanage of Doepin Monastery, Sin-Ya-Gyi, Pwin Oo Lwin Township, Myanmar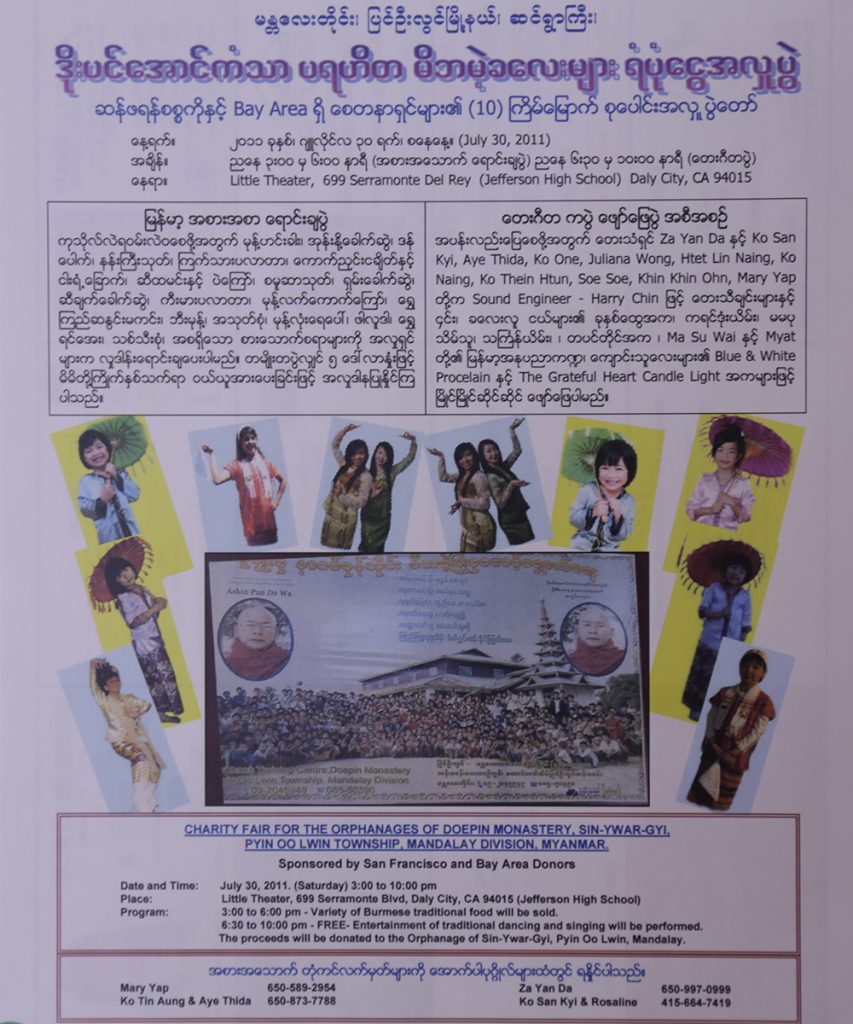 July 30, 2011 - Daly City, California, USA. Pwin Oo Lwin Township is approximately 575 KM from Yangon. The Monastery houses orphan children of all ages up to 18 years old, and provide them with basic necessities for food, education, and housing.
Charity Fundraising for the Orphanage of Pangoo Village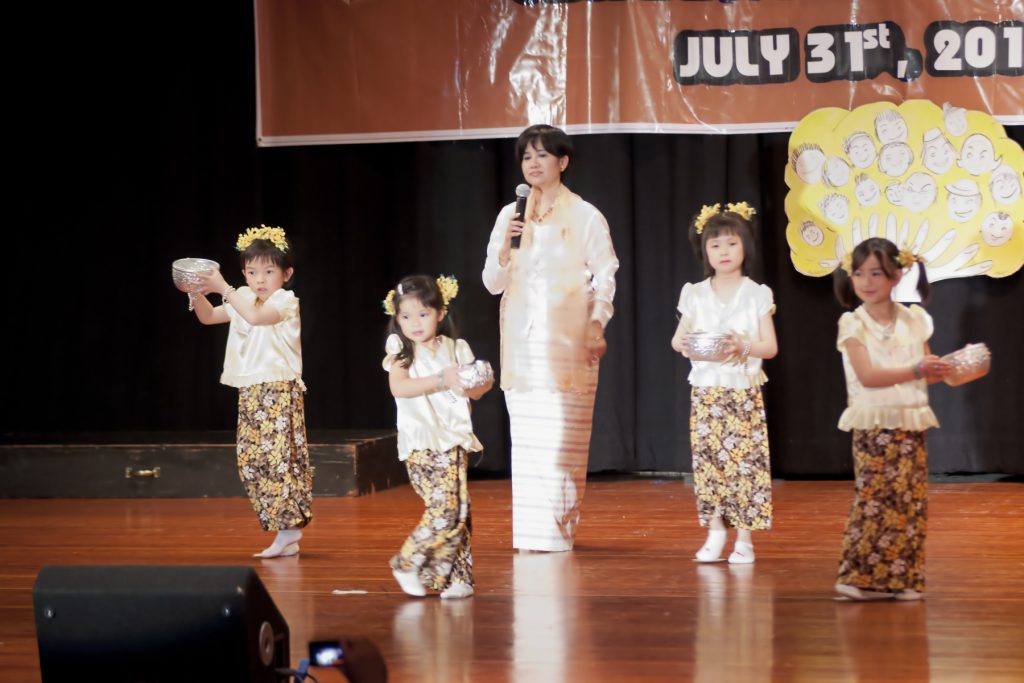 July 31, 2010 - Daly City, California, USA. Village Charity Fair For The Orphanage of Pangoo Village, Pathein Diocese, Kanasogone Parish, Myanmar Sponsored By San Francisco And Bay Area Donors
Music and Cultural Charity Fair for the Loikaw Diocese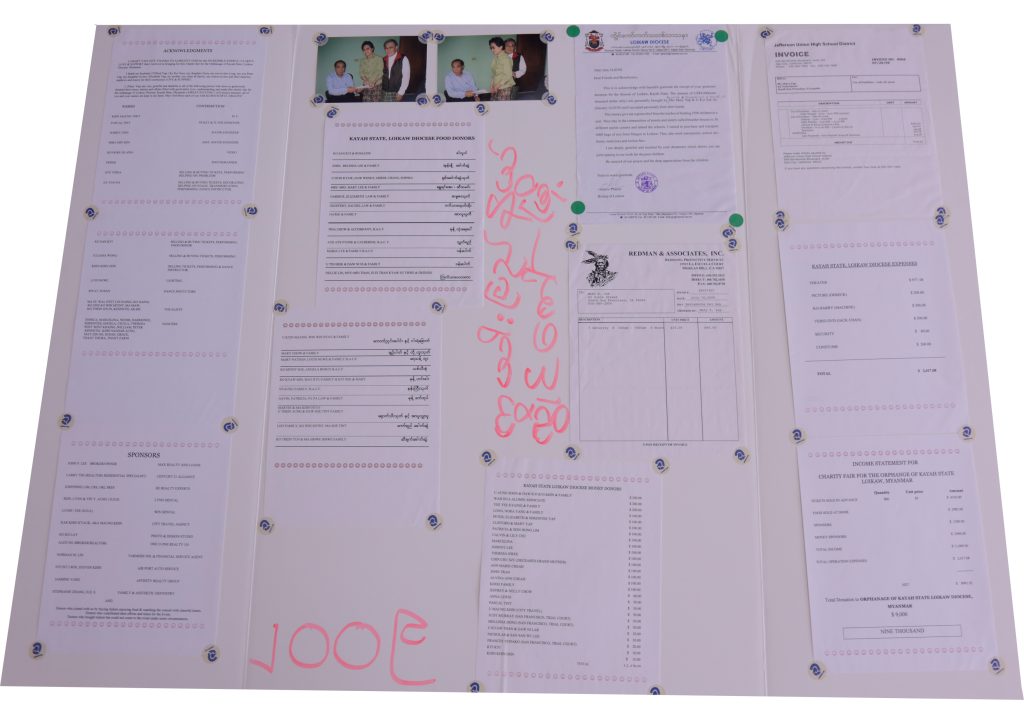 July 18, 2009 - Daly City, California, USA.
Music and Cultural Charity Fair for the Thu Khi Ta Yama Parahita Monastery, Labutta, Ayeyarwady Division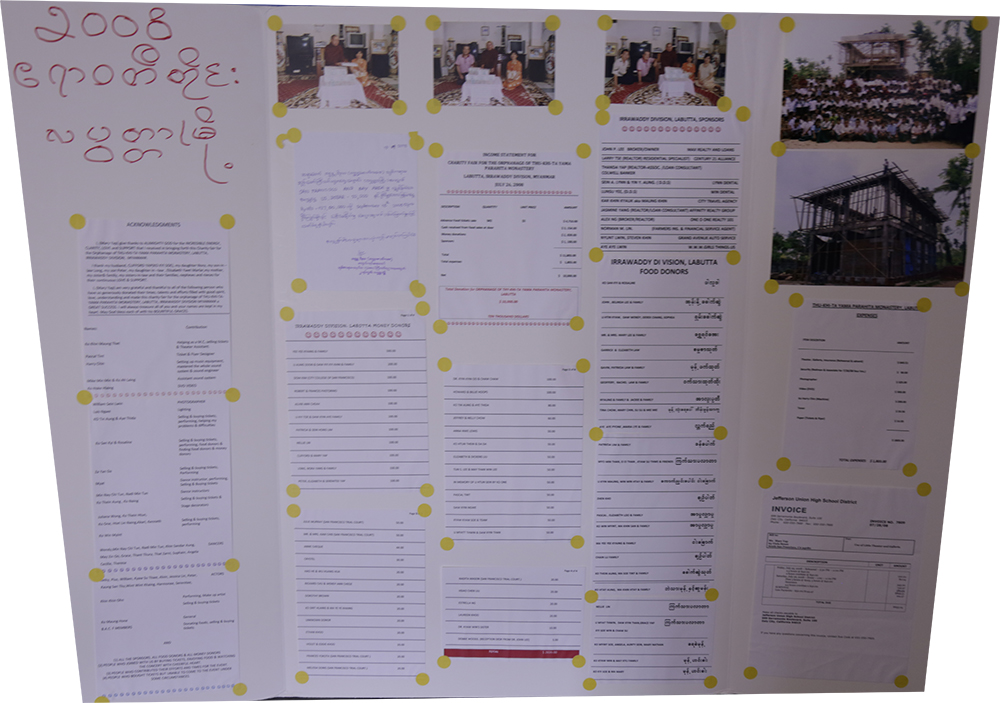 July 28, 2008 - Daly City, California, USA
Letter of Appreciation from Father Paulinus Mang Ha Gei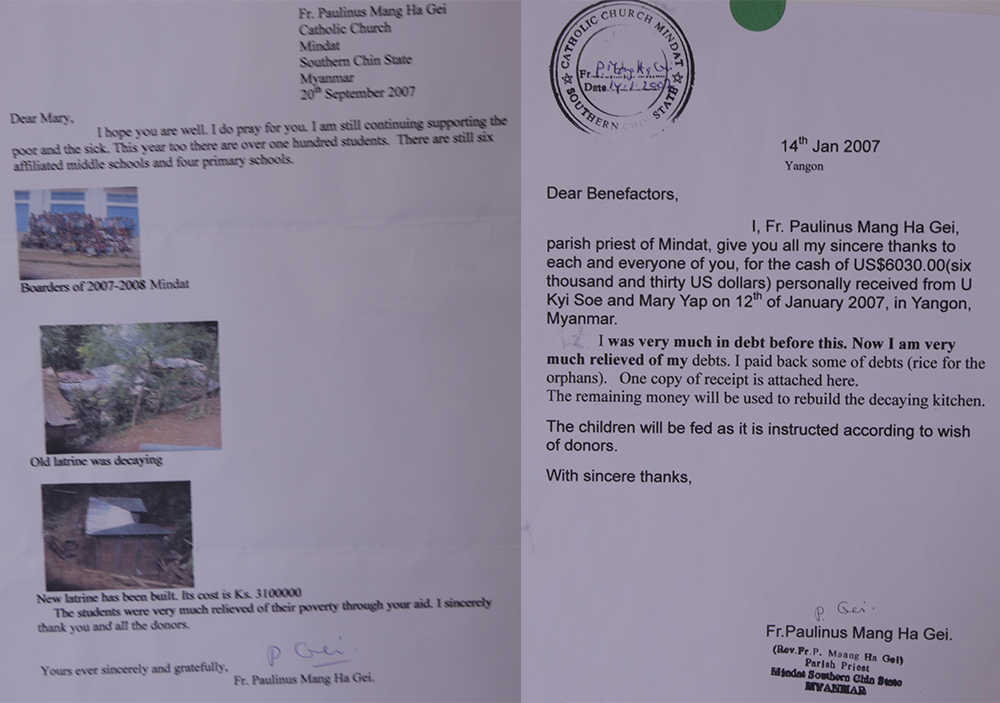 January 14, 2007 - Mindat, Southern Chin State, Myanmar
Music and Cultural Charity Fair for the Parish, Mindat, Chin State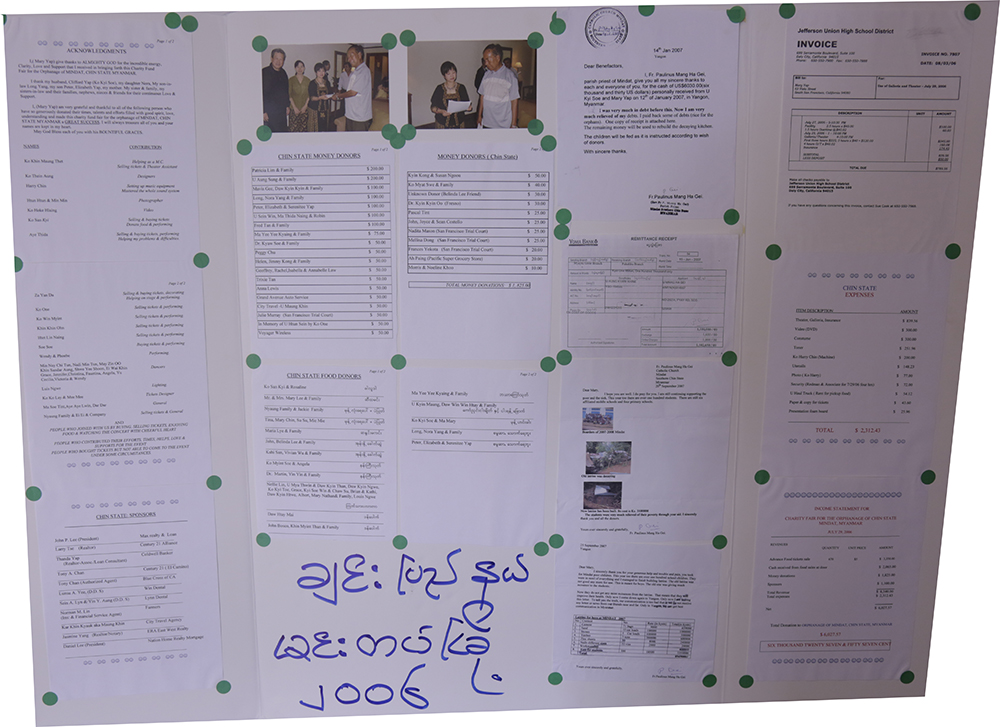 July 29, 2006 - Daly City, California, USA
Music and Cultural Charity Fair for the St. Joseph Orphanage, ZawGyi Village, Sintgaing Township, Mandalay Division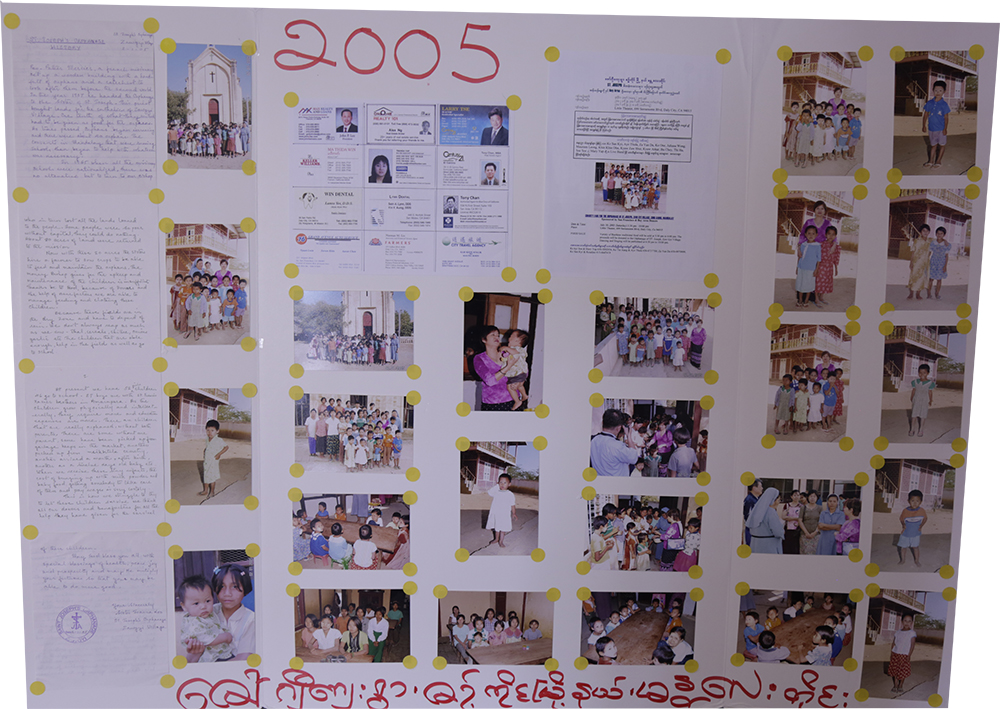 July 30, 2005 - Daly City, California, USA
Music and Cultural Charity Fair for the Jesus, Savior & Lord Orphanage, Ye Township, Mon State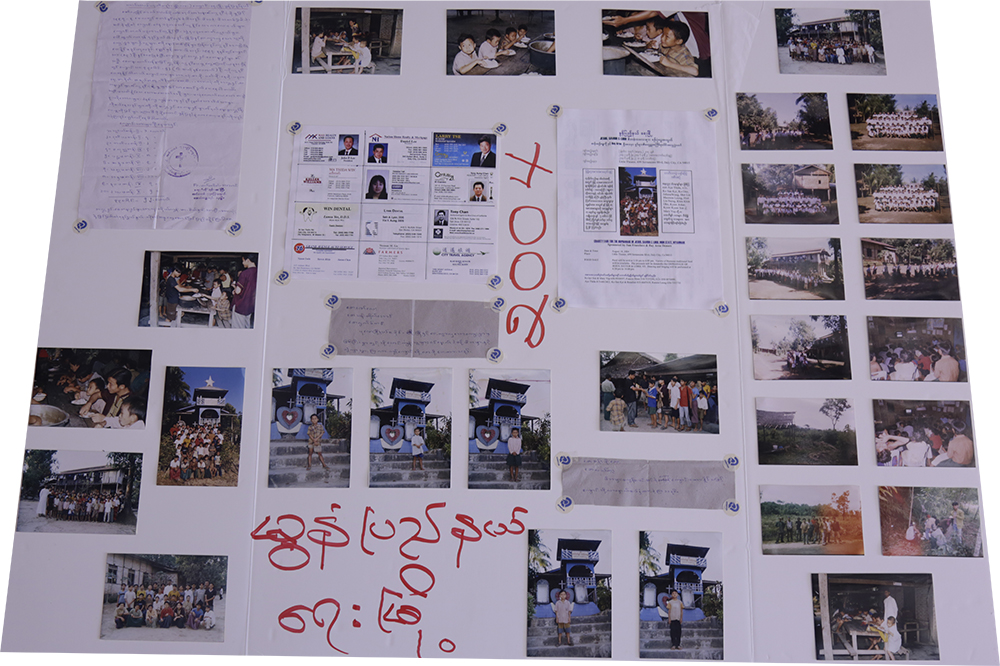 August 14, 2004 - Daly City, California, USA
Music and Cultural Charity Fair for the St Francis Xavier's Church, Hpa-An, Kayin State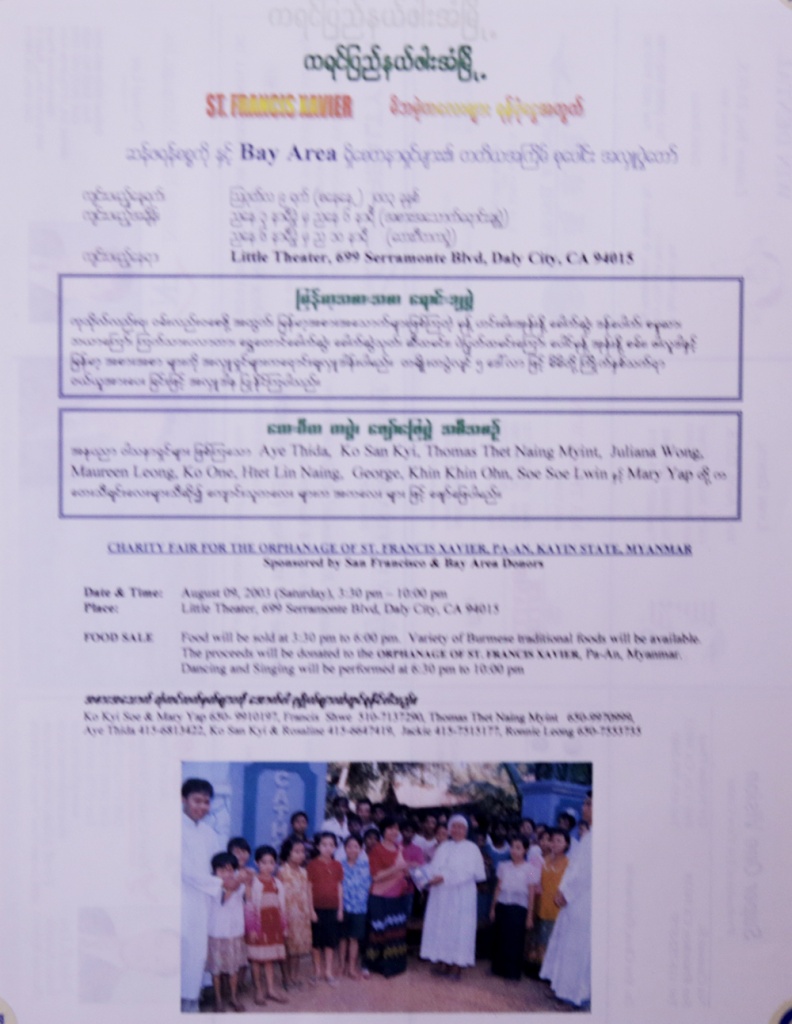 August 9, 2003 - Daly City, California, USA
Peter K. Yap visits orphan children at the Mandalay Hill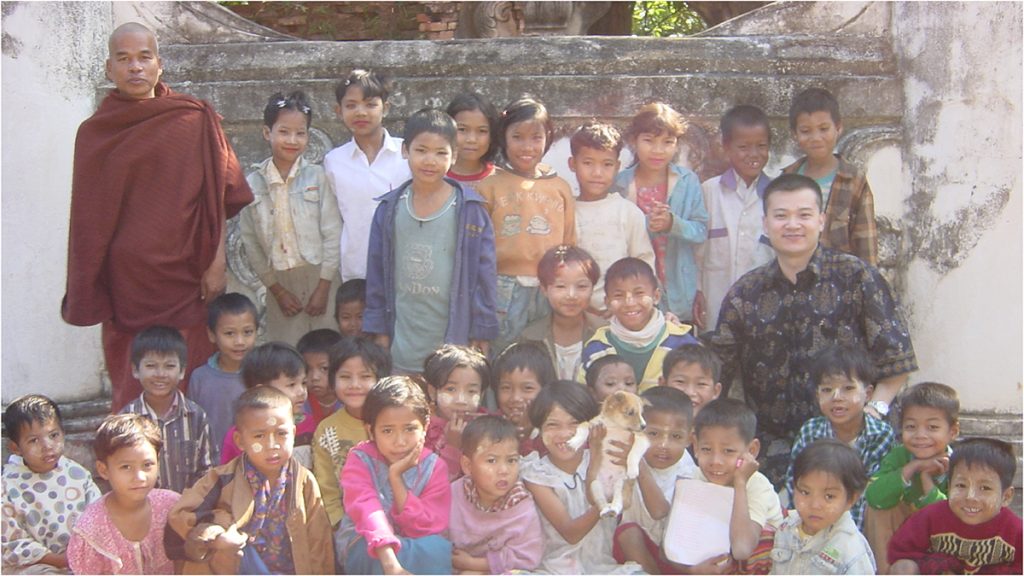 2003 - Mandalay Hill, Mandalay Division, Myanmar.
Music and Cultural Charity Fair for the Phayar Phyu Disable Children Home, Taungyi City, Shan State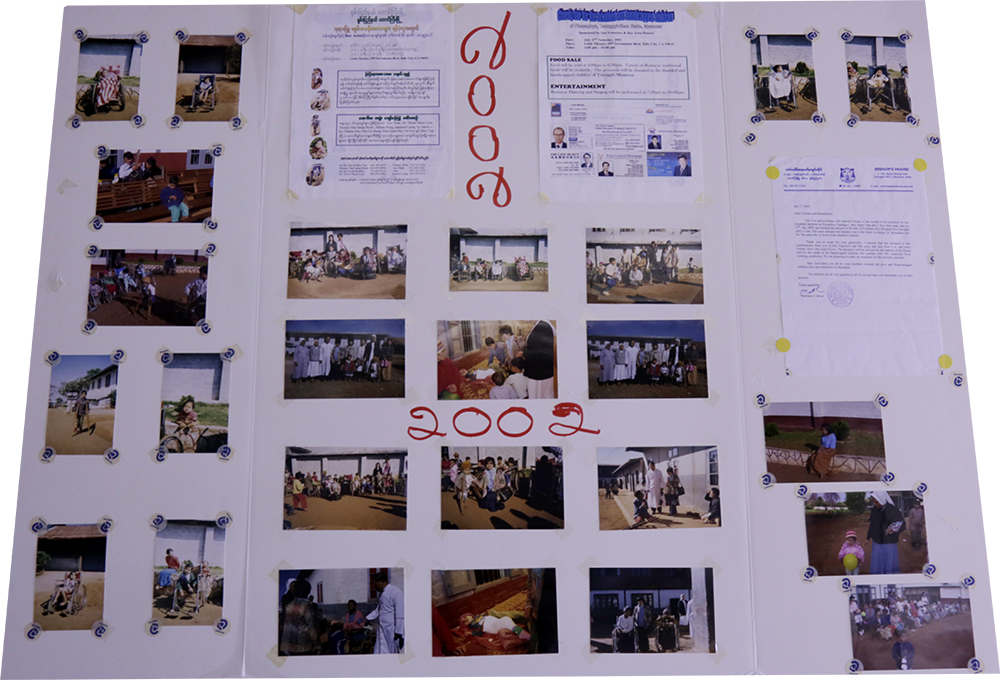 July 27, 2002 - Daly City, California, USA
First Charity Fair dedicated to the Orphanage of Saint Francisco of Assist, Tamwe, Yangon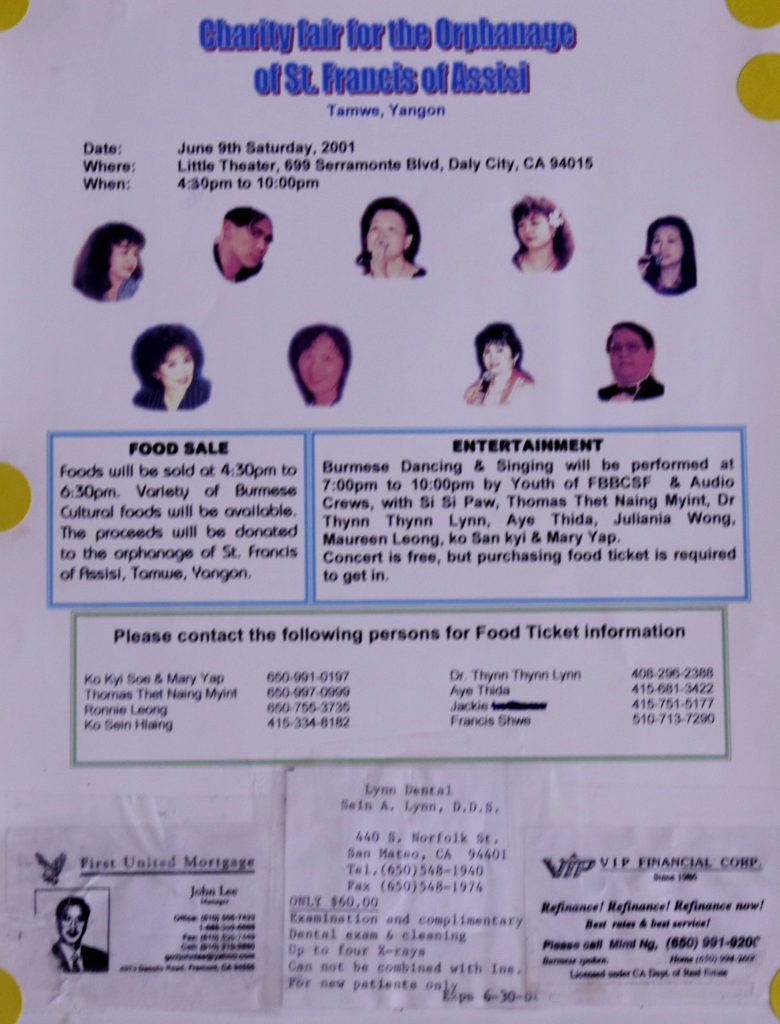 June 9, 2001 - was organized in the Little Theater, Serramonte, Daly City, CA