"Great minds discuss ideas; average minds discuss events; small minds discuss people."

– Eleanor Roosevelt (The First Lady and an orphan)

 
# 
The longest serving First Lady in US history, Anna Eleanor Roosevelt, was born on October 11, 1884. At the early age of 8, Eleanor Roosevelt lost her mother, Anna Hall Roosevelt, due to diphtheria in 1892, while her father, Elliott Roosevelt, died of alcoholism. 
Eleanor lived with her maternal grandmother, Mary Hall, who sent Eleanor to Allenwood School, a progressive girls' boarding school in London, England, in 1899.  Ms. Marie Souvestre, Allenswood 's Director, recognized Eleanor's keen intellect, improving her self-confidence. As a result, she became a well-liked leader at a young age among her classmates.
Eleanor lived in the life of politics as her uncle, Theodore "Teddy" Roosevelt, the brother of her father, who assumed the 26th presidency (1901-1909) right after President McKinley was assassinated. She was then involved in different charity programs and contributed to volunteer settlement houses and social work, activities that reflected the service's philosophy of the time spent at the Allenswood 'Girl's Boarding School, which molded Eleanor to appreciate and develop deeper insights into politics.  During this time, she fell in love with her fifth cousin, Franklin Delano Roosevelt, who later became the 32nd President for four terms from 1933 and 1945.
Eleanor Roosevelt is commonly appraised as one of the influential American women of the 20th century.  In addition to serving as the First Lady of the United States for 12 years, she was a newspaper columnist, author, diplomat, and a great contributor to the League of Women Voters.   President Truman appointed her as the delegate of the United Nations General Assembly. In 1946, she joined as a member of the Human Rights Division, further cementing her position as one of the inspirational voices in the modern world.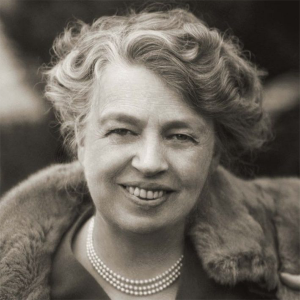 Our Foundation is pleased to recognize the incredible 'life celebrations of Eleanor Roosevelt.  Although she became an orphan young, she championed noble causes that embodied gender equality movements to be accepted worldwide.  In acknowledgment of her invaluable workaround 'for women's and human rights, she was nominated for the Nobel Peace Prize by President Kennedy, among others.